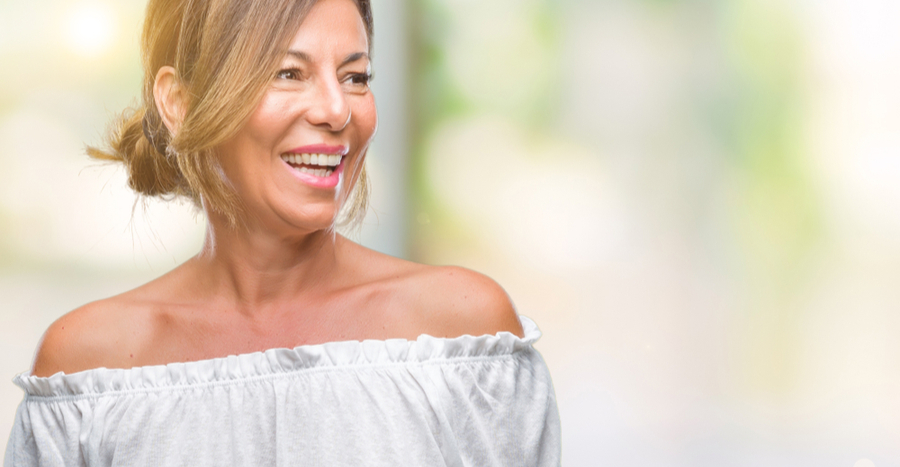 Has it started to feel like every emotion you experience is etched on your face forever? We all know lines and wrinkles are a natural part of the aging process, and it may feel like there is nothing you can do about them. Surgical procedures are not for everyone, and it is unrealistic to try to never display how you feel. However, with XEOMIN, you may be able to reduce the appearance of lines and enjoy a rejuvenated, smooth appearance! Learn more during a consultation with us at MedSpa 22 in Fort Myers, FL!
What Is XEOMIN?
XEOMIN® is an FDA-approved injectable treatment. It offers a non-surgical, minimally invasive option to smooth and minimize the appearance of glabellar lines. Glabellar lines, which are also known as frown lines, occur between the eyebrows.
XEOMIN is a neuromodulator, meaning it alters the relationship between nerve signals and muscles. When this injectable is administered, it prevents the nerve signal from reaching its destination – the muscle. This means the muscle is unable to contract, preventing the worsening or creation of lines and promoting a smoother appearance.
What Does a Treatment Session Entail?
The XEOMIN treatment process is fairly straightforward and simple! Injections are administered directly into the frown lines. There is little to no discomfort associated with the process, but you may feel a slight pinching at the injection site.
XEOMIN injections are administered in outpatient procedures in the comfort of our Florida office. Treatment sessions are typically short, and you should be able to resume your normal daily activities. There is no set downtime associated with the process.
Results achieved with XEOMIN will vary for each person and the severity of their concerns. Most people begin to enjoy their results shortly after treatment, and they may last up to three months. A regular series of treatments may help you achieve and maintain your results.
Could I Benefit from this Neuromodulator?
As XEOMIN is a neuromodulator, this means it may only be used on lines that are created by natural facial movements and expressions. It may not be used to reduce the appearance of lines created by other factors, such as sun damage or smoking.
However, this injectable treatment is safe and effective for most generally healthy adults. It is important to have realistic goals and expectations for treatment, but it may be used for most skin tones and types.
A consultation with our team in Fort Myers can help determine if XEOMIN is the best treatment for you and your goals. They can also help you develop your personalized treatment plan to promote and preserve the optimal results.
Schedule Your Consultation!
Frustrated with frown lines? Contact us today at MedSpa 22 and schedule your consultation to learn more about XEOMIN! Our qualified staff proudly serves you from Fort Myers, Florida. We are committed to helping you achieve your aesthetic goals!