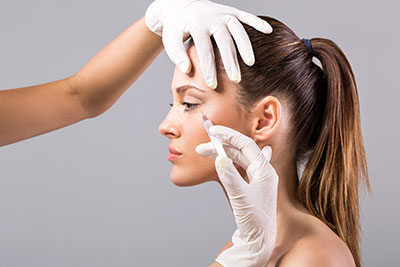 If you'd like to look younger, prevent aging, and get rid of unwanted wrinkles, MedSpa 22 has a variety of options available! Featuring BOTOX® or Dysport, these products are used globally to prevent aging, combat wrinkles, and soften expression lines both safely & effectively!
BOTOX®: A NAME YOU CAN TRUST
BOTOX® is an FDA approved way to smooth out wrinkles caused by aging and our everyday movements. Wrinkles on your forehead and around the eyes are mostly caused and made worse by expression. So BOTOX® works by relaxing the muscles around these areas and smoothing out the skin. LEARN MORE ABOUT BOTOX
DYSPORT®: AN ADVANCED ALTERNATIVE
While it has been in available in Europe for a while, Dysport is relatively new to the United States. It is widely marketed as a BOTOX® alternative because it is used to treat the same problems, and it has the same results, but it does have some subtle differences.
One of the biggest differences is Dysport's protein-rich formula. These extra proteins give the body less reason to fight against the formula and could lead to longer-lasting results and a quicker onset. The dilution of the product is also greater. Having a higher dilution factor means the formula spreads further after injection. When the formula spreads more, fewer injections are needed. LEARN MORE ABOUT DYSPORT

MOST COMMONLY TREATED AREAS/SYMPTOMS
The areas around our eyes, forehead and mouth are the most expressive areas of the face and therefore most prone to these types of wrinkles. However, Botox and Dysport are also perfect for treating other areas such as:
 Forehead Creases

 Crow's Feet

 Creases Between the Eyes

 Neck Bands

 Bunny Lines

 Masseter/Temporalis (muscles responsible for TMJ)

 Chin Dimpling

 Upper Lip

 Down Turned Corners of the Mouth

 Contouring the Jawline

 Lifting the Brows

 Excessive sweating (underarms, hands, and feet) 

 Gummy smile

 Migraines

WHAT IS INJECTION TREATMENT LIKE?
The great thing about Botox and Dysport is their ability to be administered in just a few minutes. This means you can easily fit in an appointment around your busy schedule! Unlike plastic surgery where there is a long recovery time, these injections feature only minimal discomfort and practically little to no recovery time. 
There's a reason why Botox and Dysport are the go-to solutions for wrinkles. They're easy, they're effective and they provide visible results. 
Set up a consultation to begin treating and preventing wrinkles today!

Dermal Fillers
As we age, our bodies production of nutrients starts to slow down, decreasing in production year after year. Between the environmental damage that impacts our skin on the outside (think, sun and pollutants), to the loss of these nutrients that provide necessary support from the inside, our skin begins to sag, wrinkle, and lose volume over time. 
Wipe out these signs of aging with MedSpa 22 dermal filler treatments. These treatments turn back the clock by replacing volume loss and revitalizing the skin!
Click a logo below to learn more about our Dermal Filler options.


WHAT ARE DERMAL FILLERS?
Dermal filler is an injection that is placed in specific parts of the face to replace loss of volume, contour, lift and improve your overall appearance. Fillers replenish the skin from the natural process of aging and our daily lifestyles. 
At MedSpa 22 we offer a variety of fillers that offer different levels of support and flexibility. Depending on the area being injected and your overall goal, your practitioner will recommend the perfect dermal filler for you! 
Dermal injections can be expected to last 6-12 months and the injection time is generally no longer than 45 minutes, making it a quick and simple procedure with long lasting results! There is minimal discomfort with these procedures and little to no recovery time. While there is a slight risk of bruising and swelling with filler injections, most symptoms are minimal and should subside within 72 hours.
MOST COMMONLY TREATED AREAS/SYMPTOMS
Dermal fillers can be used to help fix multiple problems such as:
 Loss of facial volume 

 Fill hollowing around eyes 

 Lift loose skin 

 Erase wrinkles 

 Plump and enhance the lips 

 Profile balancing  

 Chin & jaw augmentation

 Non-surgical rhinoplasty 

 Decrease depth of scars 

 Correct irregularities 

 Hand rejuvenation

WHAT SHOULD I DISCUSS DURING MY CONSULTATION?
During your consultation, it's important that you let our practitioner know if you have any allergies to medicine or other products. It's also a good idea to mention any medications you're currently on so that there are no adverse reactions. Lastly, you'll also want to have a good idea of what your goals are for your dermal injection so that we know exactly how we can help you achieve them.
Your consultation is an important part of your journey to younger-looking skin, so don't wait! Set up a consultation below to meet with a member of MedSpa 22 today! 
Facial Volume
At 20 years of age, your collagen production begins to decrease by 1% every single year. By the time you're 40, you've lost 20% of your collagen production. 
Why does this matter? 
Collagen is the most abundant protein in your body. It is a major component of the connective tissues that make up many parts of your body, including your skin. In fact, it provides your skin with it's structure, making it plump, healthy and "glowy". 
Once there's been a breakdown of collagen in your system, you'll begin to see the side effects of aging and the loss of integrity in your skin. Wrinkles begin forming, skin starts sagging, and facial structure begins hollowing. 
At MedSpa 22, we have a natural way to tell your body to create more collagen and fill in those hollowing areas and replenish skin health. With Sculptra Aesthetics, we can fill out sunken areas such as cheeks, temples and around the mouth, taking years off of your face without surgery. The result is a natural, vibrant, younger-looking you! We couldn't be more excited to offer Sculptra Aesthetics at MedSpa 22, one of the world's leading anti-aging treatment options for the face, chest, hands, and butt! 
WHAT IS SCULPTRA AESTHETIC?
Sculptra Aesthetic is a solution that naturally increases the production of collagen. When added to the face, chest, hands or butt it can bring out a fresher, brighter and more youthful you. Unlike some of its competition, Sculptra doesn't overfill your face. Sculptra is not a dermal filler, it is injectable poly-L-lactic acid and indicated for use in people with healthy immune systems as a single regimen for the correction of shallow to deep folds, contour deficiencies and other facial wrinkles in which deep dermal grid pattern injection is appropriate.
IS SCULPTRA SIMILAR TO OTHER DERMAL FILLERS?
No, Sculptra Aesthetic is not a dermal filler but it serves the same purpose as dermal fillers, however, it does its job in a different way. Most dermal fillers will replace volume using hyaluronic acid (HA) which is a natural enzyme your body creates that prevents wrinkles and gives skin its bouncy nature. Sculptra Aesthetic is made with the same thing our body produces after exercising. The lactic acid works to fill out the cheeks right away, but will eventually be absorbed into the body as your cheeks naturally fill out.
Results will always vary from person to person, but Sculptra has a tendency to last longer than other dermal fillers once the full treatment is completed, lasting for at least 2 years! 
WHAT IS THE PROCEDURE LIKE?
Once it's determined that Sculptra is the perfect procedure for you, we'll determine the sites of injection pertaining to the areas requiring volume. With pain being a big worry, each injection includes Lidocaine, a local anesthetic that brings the feeling of each injection down to a slight pinprick. With undetectable pain, the procedure lasts no longer than hour and has minimal downtown and swelling. 
WHAT HAPPENS AFTER YOUR SCULPTRA TREATMENT?
You will see slight immediate results that increasingly get better with time. 
Immediately after treatment, you may feel some pressure, swelling or redness around the injection sites. It is recommended that you don't spend significant time in the sun or exercising.
You will need a few appointments throughout the next couple months to complete the Sculptra series. We'll create a schedule during your consultation; typically we recommend 2- 3 treatments over the course of six months. To maintain the best results we recommend 1 treatment annually. Without annual treatments the results can last up to 2 years. 
Your first step to a younger you is to call MedSpa 22 for a consultation and ask about Sculptra today!
Treats the following:
Loss Of Facial Volume
Increase Collagen Production
Lasts Up To 5 Years
Radiesse
The option that does it all!
Radiesse offers the immediate gratification of a traditional dermal filler with a small dose of that Collagen stimulant we mentioned earlier to help create strong, glowing skin and to stop the loss of facial volume that naturally occurs as we age. What more could you possibly want out of a product?
What makes Radiesse different from other leading dermal fillers?
RADIESSE is the only dermal filler available composed of calcium-based microspheres, and has been shown to stimulate the natural production of collagen, for results that may last up to a year or more in many patients. Once injected, RADIESSE plumps the skin to give the appearance of a smoother surface. Over time, RADIESSE works to stimulate the body to produce collagen naturally. Ultimately the body absorbs the product and leaves behind the natural collagen for long-lasting results
What is RADIESSE made from?
RADIESSE is made of tiny calcium-based microspheres suspended in a water-based gel. The calcium microspheres are similar to minerals found naturally in the body so allergy testing is not required. Over time, the body absorbs the microspheres and gel, leaving behind only natural collagen.
RADIESSE is FDA-approved for correction of moderate to severe wrinkles and folds.

Lipo Dissolve
While dermal fillers and Botox can address a variety of aging concerns, Lipo Dissolve actively fights fat. At MedSpa 22, we're proud to offer this progressive treatment for double chins, and many other areas with stubborn, difficult to lose fat (backs, thighs, stomach, arms, etc.)! 
WHAT IS LIPO DISSOLVE®
Lipo Dissolve is the only non-surgical option to removing fat underneath the chin. By targeting and destroying the fat cells, Lipo Dissolve uses the body's natural healing process to tone and tighten the skin. The primary ingredient is deoxycholic acid, a naturally occurring enzyme which assists the body in the breakdown of fat. When this formula is given to the fat under the chin, it accelerates the rate in which the body breaks down and absorbs fat.
WHO SHOULD USE LIPO DISSOLVE®?
The ideal candidate for Lipo Dissolve is a healthy adult who is within their ideal weight goal. Lipo Dissolve targets and eliminates annoying pockets of fat, but isn't a good solution for dynamic weight loss. Certain conditions could make a Lipo Dissolve procedure difficult. It's important to tell a member of our medical team about any past conditions or current medications you're taking.
Don't let a double chin or stubborn fat keep you from living your best life. Set up your consultation below at MedSpa 22! 
MOST COMMONLY TREATED AREAS/SYMPTOMS
Dissolve Fat
Double Chin 
Stomach 
Back
Arms 
Thighs
At MedSpa 22, we are dedicated to providing our clients with the most exceptional cosmetic enhancement treatments available. Our professional staff will guide you through every step to ensure your ideal result.